Among the customer base of karel robots, there are leading enterprises from the home appliance industry,
such as midea, galanz and gree.
There are domestic leading manufacturers of automobile starting batteries such as sails and camels from the auto parts industry, oasis paper models and jittery from the environmental protection tableware industry, as well as mattel group, the world's largest toy enterprise.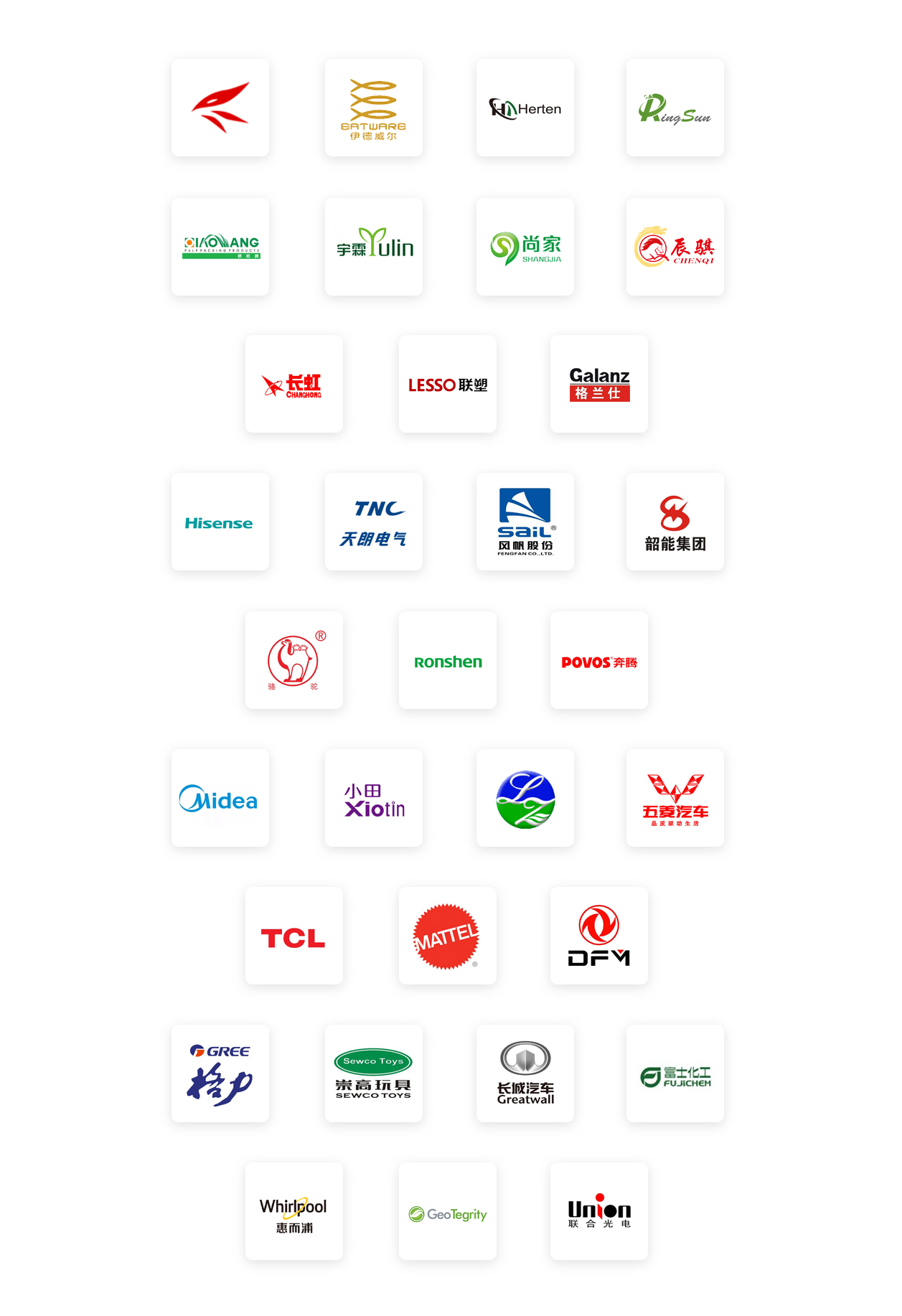 YA'AN DINGLI PAPER PRODUCTS CO., LTD.
KANGXIN (HAIMEN) ENVIRONMENTAL TECHNOLOGY DEVELOPMENT CO., LTD.
ANHUI HETENG ENVIRONMENTAL PROTECTION PRODUCTS CO., LTD.
ZHEJIANG JINSHENG ENVIRONMENTAL PROTECTION CO., LTD.
GUANGXI QIAOWANG PAPER MOULD PRODUCTS CO., LTD.
WENZHOU SAMSUNG ENVIRONMENTAL PROTECTION PACKAGING CO., LTD.
GETTLEY ENVIRONMENTAL TECHNOLOGY (XIAMEN) CO., LTD.
ANHUI SHANGJIA ENVIRONMENTAL PROTECTION TABLEWARE CO., LTD.
ZHEJIANG BOTE BIOTECHNOLOGY CO., LTD.
SHANDONG CHENQI ENVIRONMENTAL PROTECTION NEW MATERIAL TECHNOLOGY CO., LTD.
HUBEI STRAW ENVIRONMENTAL PROTECTION TECHNOLOGY CO., LTD.
ZHONGSHAN CHANGHONG ELECTRIC APPLIANCE CO. LTD
GUANGDONG LIANSU TECHNOLOGY GROUP
GALANZ HOME APPLIANCES CO. LTD
HISENSE KELON ELECTRICAL HOLDINGS CO.,LTD
BAODING FENGFAN CO., LTD
GUANGDONG SHAONENG GROUP CO., LTD.
CAMEL GROUP CO. LTD
HISENSE RONGSHENG (GUANGDONG) REFRIGERATOR CO. LTD
GUANGDONG MIDEA LIFE ELECTRIC APPLIANCE MANUFACTURE CO. LTD
ZHONGSHAN XIAOTIAN ELECTRIC APPLIANCE CO. LTD
GUANGDONG OASIS PAPER MOLD PACKAGING PRODUCTS CO. LTD
SAIC-GM-WULING AUTOMOBILE CO. LTD
TCL HOME APPLIANCE (ZHONGSHAN) CO. LTD
MATTEL TOYS - FOSHAN, MEXICO
DONGFENG MOTOR CO. LTD
GREE ELECTRIC APPLIANCES (ZHONGSHAN) CO., LTD
GREAT WALL MOTOR CO. LTD
ZHONGSHAN FUJI CHEMICAL CO. LTD
WHIRLPOOL (CHINA) CO., LTD
ZHONGSHAN UNITED OPTOELECTRONIC TECHNOLOGY CO. LTD
ZHONGSHAN TIANLANG ELECTRIC APPLIANCE CO. LTD
PENTIUM ELECTRIC (SHANGHAI) CO., LTD
SHENZHEN YOUSHANGLIANGPIN PLASTIC HARDWARE PRODUCTS CO. LTD
ZHONGSHAN NOBLE TOY FACTORY CO. LTD