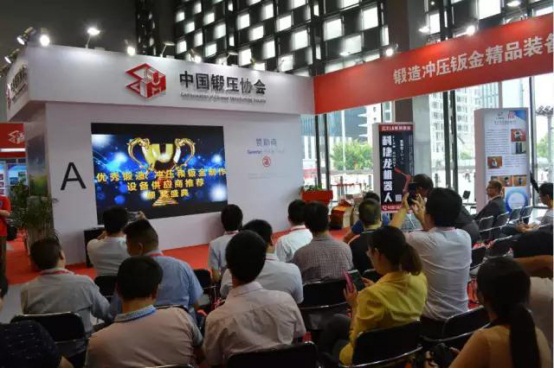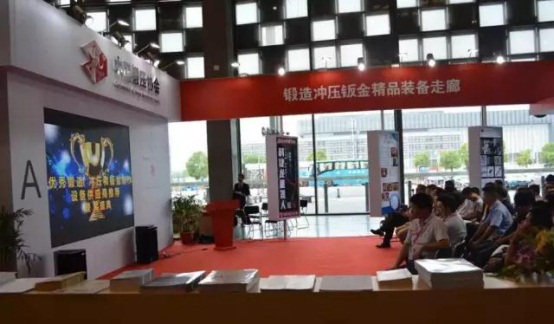 2015 China international exhibition of metal forming has been successfully held three days, after the exhibition organizers of the China association of forging exhibitors, the organizing committee, the media, the guest list, guangdong karel robot co., LTD (former: zhongshan karel robot co., LTD.) was chosen as the exhibition organizers in China forging association recommends "excellent stamping equipment supplier", karel robot show "metal stamping robot was rated as" China association of forging "advanced automation device class emphatically recommended products".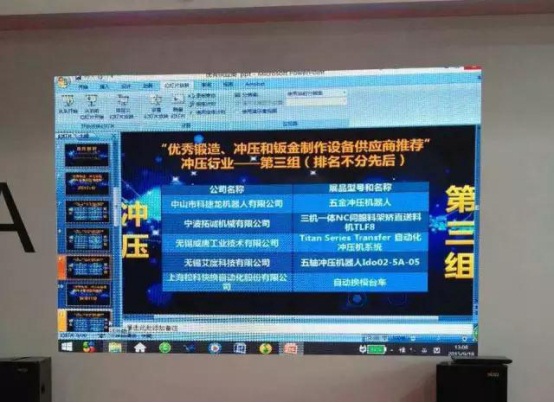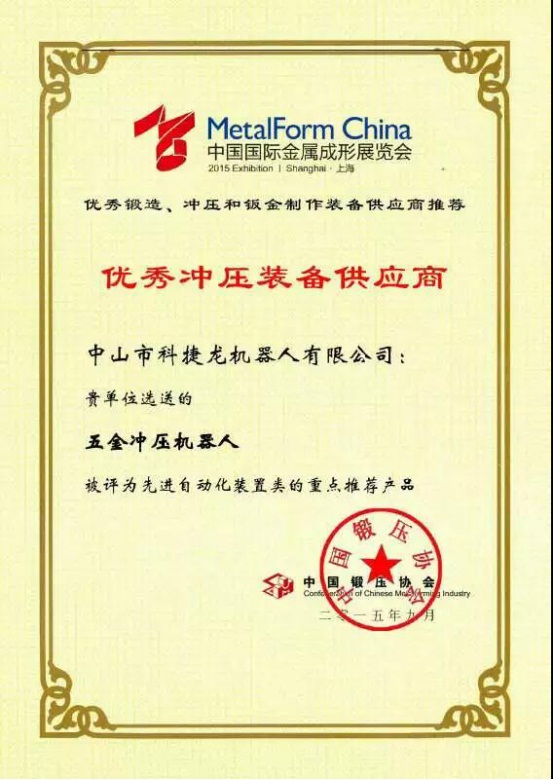 Ms. Chen Chunhua, Deputy General Manager of Guangdong Kejielong Robot Co., Ltd., received the industry honor on behalf of the company, and highlighted: "Several metal stamping robots exhibited by Kejielong are after years of technical accumulation and application, from the design The internal structure adopts the latest technology, emphasizing the practical, stable and beautiful technical characteristics. Customer satisfaction is the goal that Kejielong people have been pursuing! Kejielong will continue to improve and constantly strive for excellent quality!"
The Kejielong metal stamping robot has the following features:
1. Safety: Whether it is single or online, the operator's hand is in the safe area outside the working range of the mold and punching machine, greatly reducing the occurrence of safety accidents.
2, high efficiency: online efficiency is more obvious, more than two can be connected, plus automatic feeding device more efficient.

3, economy: strong versatility, this product is not limited by the number of punching machines, debugging is simple, only need to replace the fixtures in the zone when changing the mold, due to asynchronous connection, for multi-station online operation, even if there is The one-step process needs to be stopped, and it will not affect the front and rear process machines. It is also possible to switch the mold at any time without causing all downtime.
4. Convenience: Punch brand and tonnage can also be installed online. After one installation, it can work stand-alone or online. Adjacent machines can be unrestricted. Just adjust the mode button. Just turn off the power and air supply when the machine is on.